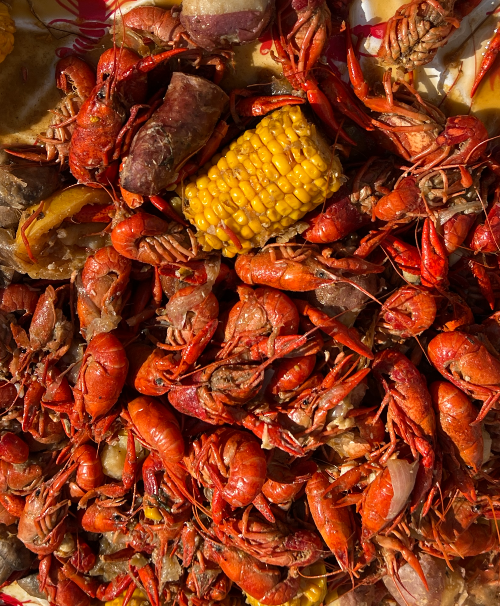 When I hear "Crawfish Boil" there are several thoughts that are evoked: warm weather, spring time, comfort food, cold beer, and great laughs with family and friends.  For the majority of people, a crawfish boil usually means an invitation to someone's event who has experience boiling and takes on the full task, however I want everyone to know it is not as hard as it looks to host your own crawfish boil and the feeling of it being an overwhelming undertaking should be pushed aside with these few simple steps below.
Growing up in south Louisiana, crawfish boils are near and dear to my heart. They are a part of our Louisiana heritage and the tradition of boiling crawfish dates back to the early 1700s, when the French settled in Louisiana and began cooking crawfish in large pots for communal meals.  They also have become a part of "day off" lives, as I can recall many weekends where a neighbor, friend, or family would host a crawfish boil by sending out invites weeks, days or in the majority of cases via impromptu text message. .
So I am going to go out on a limb here and for the sake of this article assume you have never hosted a crawfish boil or just feel overwhelmed at the thought of putting a boil party together.  Here are the 8 simplest steps in order to host your first ever boil:
The Basics: Like any new hobby there is always a cost for entry and needs to be weighed versus how many boils you plan to host over the life of the equipment. You will first need an aluminum or stainless pot, I like 120 quart pots because a full 40 lb sack of crawfish will fit in the pot but an 80 or 100 will do fine as well just takes a little longer to boil a full sack and are cheaper.  Also a dual burner is ideal with a minimum 20 psi high pressure regulator.  Here are a couple of examples: https://www.amazon.com/Bayou-Classic-1200-120-Quart-Aluminum/dp/B0009JXYMS/ref=sr_1_5?crid=20PHYOMSLKLPX&keywords=120+quart+crawfish+pot&qid=1678294062&sprefix=120+quart+cr%2Caps%2C232&sr=8-5&ufe=app_do%3Aamzn1.fos.18630bbb-fcbb-42f8-9767-857e17e03685 https://www.amazon.com/Bayou-Classic-SS2-Stainless-Double/dp/B00ABF5RO8/ref=sxin_16_pa_sp_search_thematic_sspa?content-id=amzn1.sym.1f18d220-81af-4a70-bdde-885568f7c21f%3Aamzn1.sym.1f18d220-81af-4a70-bdde-885568f7c21f&crid=1KF3WBCR17WYL&cv_ct_cx=dual+propane+burner&keywords=dual+propane+burner&pd_rd_i=B00ABF5RO8&pd_rd_r=197c87aa-09aa-4189-81e7-e319eb94a384&pd_rd_w=igoAS&pd_rd_wg=P1o4y&pf_rd_p=1f18d220-81af-4a70-bdde-885568f7c21f&pf_rd_r=SZJJG2CAH4HKXZKKGV0X&qid=1678294137&sprefix=dual+propane+burner%2Caps%2C113&sr=1-1-492482ea-2ad3-4cfe-9d1a-0efc7c5c9374-spons&ufe=app_do%3Aamzn1.fos.18630bbb-fcbb-42f8-9767-857e17e03685&psc=1&smid=A1VTM5RN7EVHNQ&spLa=ZW5jcnlwdGVkUXVhbGlmaWVyPUEzOFgxMVVaSEdaNllGJmVuY3J5cHRlZElkPUEwMjAzMTY3SE1UOVQ2MUZDQjlMJmVuY3J5cHRlZEFkSWQ9QTAyMjc5NDQxOTBaVTVOWjg0TTZFJndpZGdldE5hbWU9c3Bfc2VhcmNoX3RoZW1hdGljJmFjdGlvbj1jbGlja1JlZGlyZWN0JmRvTm90TG9nQ2xpY2s9dHJ1ZQ==
Plan ahead: Determine how many guests you will have and purchase the necessary amount of crawfish. Usually, I plan around 3 pounds of crawfish per person. 
Buy the ingredients: Aside from the crawfish, you will also need the all the fixings and seasonings to go with a 40 lb sack. At the end I have listed my recipe to follow.
Clean the crawfish: Before cooking the crawfish, you will need to clean them. Rinse them several times with cold water, removing any debris or dead crawfish.  I still use salted water for purging but there is much debate about whether this works or not but I have been doing it so long that I haven't broke from tradition.
Season the water: Fill the pot with water half way, let it boil then add the seasoning mix. Stir!
Add the Fixing's: Once the water is seasoned, add the vegetables (except frozen corn and mushroom), lemons, and sausage to the pot and let them cook for around 20 minutes.  After 20 minutes add corn and mushrooms to the mix and let boil additional 5 minutes.
Add the crawfish: Add the crawfish to the pot and stir to ensure they are coated in the boil seasoning. Cover the pot and let it the pot liquid come back to a boil, this can take 5-7 minutes.  Once at boil shut off the burners, add 2 sacks of ice to cool the liquid and stop the cooking process. (Note: You will know if they are done if shells are bright red) Let soak for 15-20 minutes depending on the level of spiciness as the seasoning will rise thru the crawfish as the water cools.
Strain the crawfish:

Once the crawfish are cooked, use a strainer to remove them from the pot and transfer them to a large table or platter.  The 120 quart pot listed above comes with a strainer pot insert.

Serve and enjoy:

Serve the crawfish hot with the cooked vegetables and sausage  plus some ice cold beverages. Provide paper towels, Remoulade sauce (store bought or homemade), and provide small bins to discard the shells as the guest eat.
One thing you will learn as you have more and more boils and gain knowledge is that everyone has something different that they put into their boil that makes it different.  I am no exception and here is my "Fixing's and Spice" Recipe per Sack Cooked:
6 Lemons - Sliced and Juiced into Water, Add Squeezed Halves to Strainer Pot
6 Bulk Garlic - Cut in half horizontally
2 lbs Sausage
2 Packs Small Red Potatoes (about 10 per pack)
2 Large Packs White Whole Mushrooms 
3 Whole Onions - Halved
4 Stalks of Celery (Think Holy Trinity)
12 Pack of Corn on Cob (Frozen / Each about 3" Long)
1 lb Louisiana Crawfish and Crab Boil Powder
24 Oz Louisiana Crawfish and Crab Liquid Concentrate
2 Cups Tony Chachere's or Favorite Cajun Seasoning
1/2 Cup Cayenne
1/2 Cup Garlic Powder
1/2 Cup Onion Powder
While I have tried to keep this process as simple as possible, there will inevitably be trials and tribulations, but have no fear, if you ever need help just email me at Scott@dayoffequal.com and I would be happy to answer any questions or walk you thru step by step!